This fall, we'll join hundreds of remarkable women in technology in Baltimore, Maryland for our fifth year at the Grace Hopper Celebration of Women in Computing. We're looking forward to tackling this year's theme, "Are We There Yet?," with 25 university and industry Facebook Grace Hopper Scholarship winners.
The Facebook scholarship awards women excelling in computer science with the chance to attend the Grace Hopper Celebration of Women in Computing conference from October 3 – 6, 2012. In addition to exploring the opportunities for mentoring, networking, technical and career development at the conference, the scholarship winners are invited to Facebook's New York engineering office to meet Facebook engineers and attend tech talks.
Since I arrived at Facebook almost two years ago, I've been inspired by our strong bench of technical women and our continued commitment to advancing the cause of women in technology. This conference is a great time for us to be part of the dialogue about the challenges and opportunities that lie ahead. Whether through talks and panels by my colleagues and me or conversations on the sidelines, we look forward to connecting with you in New York and at Grace Hopper.
To apply for the scholarship, please visit the Facebook Grace Hopper Scholarship application page.
Award Details
-Grace Hopper Conference Registration
-An invitation to a private reception at Facebook with director of engineering Jocelyn Goldfein and other Facebook employees during the Grace Hopper Conference
-An all-expenses-paid visit to Facebook's New York City office from Sept. 30 – Oct. 2 that includes tech talks, mentoring sessions, and optional sightseeing
-Travel and lodging accommodations for New York and Baltimore
-$200 food stipend
Important Dates
EXTENDED: Sunday September 9, 2012: Applications for the Grace Hopper Scholarship must be submitted in full
Friday September 14, 2012: Award recipients will be notified by email of their acceptance
Sunday Sep 30 – Saturday Oct 6, 2012: Award recipients travel dates
Eligibility
If you are a student, you must be enrolled full time at a university anywhere in the world and pursuing a computer science, computer engineering, or related technical major.
If you are not a student, you must be working full-time in a technical position at an engineering, computer engineering, and/or hardware engineering company anywhere in the world.
International applicants are welcome, but you will be responsible for securing your own visa in time to attend the conference.
Other criteria will be decided by Facebook in its sole discretion. Facebook complies with all equal opportunity laws.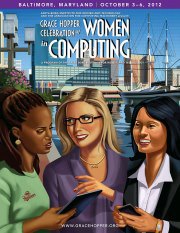 Jocelyn is a director of engineering at Facebook.