One of our greatest traditions at Facebook is hackathons, a time when engineers across the company get together to hack on new ideas and try to build a prototype overnight. About a year ago, I decided to try working on Events at a hackathon and ended up building the Events permalink on the homepage. More recently, a couple of us felt there should be a better way for people to see their friends' birthdays a few days in advance and make plans for the weekend. So we built it.
The Social Calendar Dreamers
Before a recent hackathon, a few of us created a Facebook group called "Social Calendar Dreamers" to spark discussion around making Events more visual. At the next hackathon, engineers from the events, photos, messages and other teams hacked through the night to build a better way to view events. By 6 a.m., we had a prototype that worked.
Each hackathon is followed by a prototype forum, where anyone who built something at a hackathon can present it to their teammates across engineering and convince them that it's something that should be on the site. When our group unveiled our project at the forum, we got a great response and we were encouraged to show it to more folks at Facebook. As buzz started to build, people who hadn't joined us at the hackathon volunteered to build additional features.
Together, we built a new list and day view, and incorporated posts, photos and videos. We touched up details like making the Events icon dynamically update to today's date, rather than showing a permanent "31" as before. After incorporating feedback from an internal test, we were excited to roll it out and take our hackathon project full circle.
See Events on a List or Calendar
Today we announce a new list and calendar view that makes it easier to scan upcoming birthdays, invites and suggested events. Scroll through these events and respond to invites without leaving the page. Suggested events are recommended to you based on your friends, Pages you like, places you've checked in at and the apps you use on Facebook.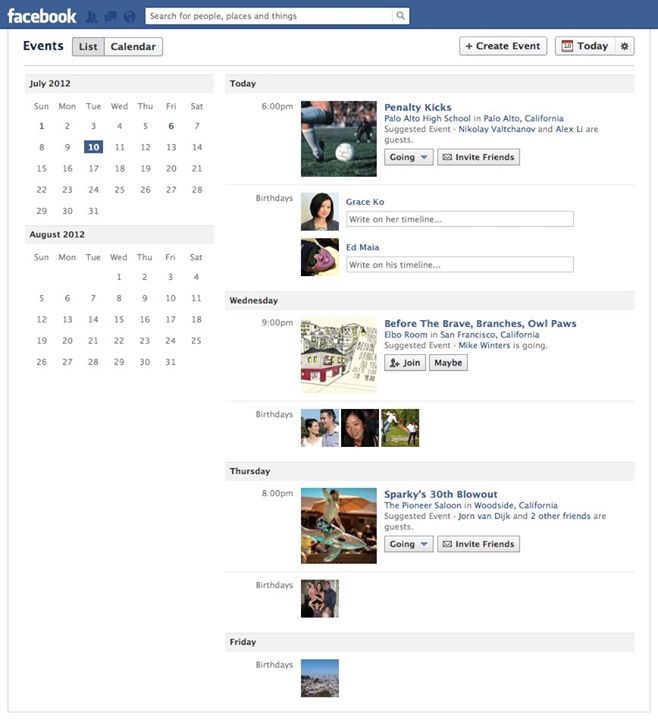 To get to the calendar view, click on "Calendar" on the top left of your Events dashboard.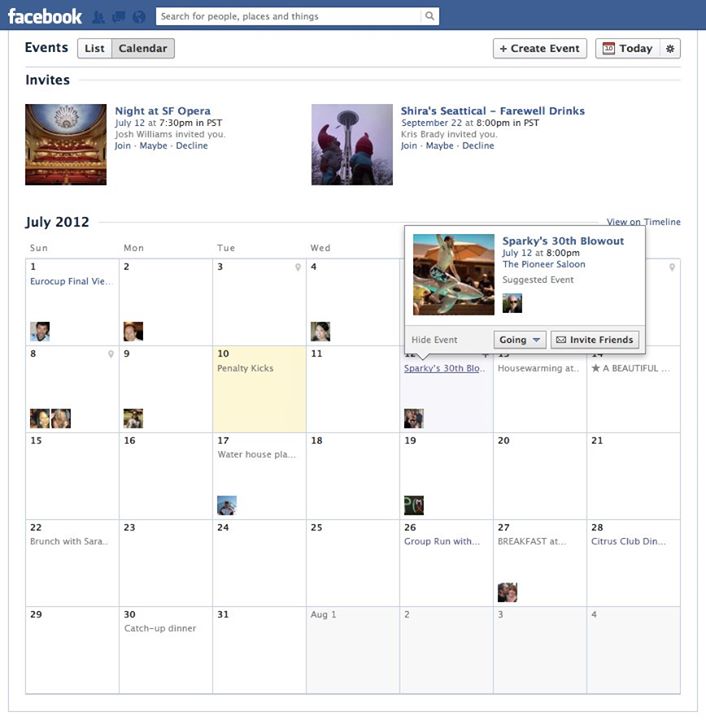 It was awesome to watch this project come together so quickly. The great thing about hackathons is that you get to dive straight into building a concept with your friends without having any concrete plans or directives. It's pretty cool that a night of hanging out and hacking on an idea can turn into something that my friends and everyone else on Facebook can use.