At Facebook, our engineers collaborate to create an open environment where ideas win and are executed quickly. Each week, our engineers will give you a look into what it's like to ideate and build at Facebook in our new "Meet a Facebook Engineer" Q&A series. Check back weekly to hear from different engineers about what problems they're passionate about solving right now, what they're up to at Facebook and what advice they have for you.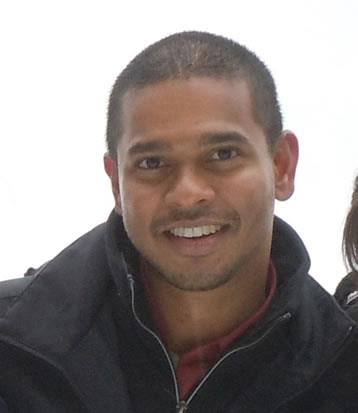 Q: What problem are you most passionate about solving right now?
A: I work on the Facebook Messenger team in Seattle, where we create ways for people to reach their friends and families instantly. While each of these components by itself isn't new, when you put the Facebook social graph behind them, they become a powerful tool for connecting people in realtime. Facebook has taken on the role of being the platform that connects people across the world and all the problems I've worked on so far are aligned precisely behind that one goal. Truly, it's the social connectedness that I'm most proud of working on here.
Q: What does a typical day look like for you?
A: What's interesting is what my day is not like. I have less than two hours of pre-scheduled meetings for a full week, which gives me solid blocks of time to focus on coding. That said, we do have informal impromptu meetings around desks when necessary and a lot of quality conversation happens in Facebook Groups (which, by the way, are an excellent collaboration tool).
I get in to work before 10 a.m. and jump right in, usually with my headphones on. Lunch is at noon, and here at Facebook Seattle we get our meals catered from a different restaurant every day. After lunch, I get back into the groove of things again. At about 3:30 p.m., a bunch of us gather to go out for coffee, which is a great bonding ritual. Dinner comes in at 6 p.m. and after another solid chunk of work, I leave for home around 8 p.m.
Q: Why do you come to work in the morning?
A: When I joined Facebook in early 2011 and started poking around the codebase, I was struck at how much work has gone into the infrastructure for running a service at such a large scale. Data is available at an snap and reconfigurations happen in real-time. New features and bug fixes ship every day. You can literally wake up with a new idea in your mind, code it up in the morning, schedule it to ship in the afternoon and by evening, 800+ million people are using the feature you just built. That power is exhilarating.
Also, work is just a heck a lot of fun in Facebook. I work with people that are smarter than me and while it's humbling, I learn from them. Everyone is aligned behind the company's goals and where there's such a focused alignment, puzzle pieces just fall into place. The energy here is invigorating and addictive. That's the reason I look forward to coming into work every day.
Q: What advice do you have for other engineers?
A: As companies grow and one generation replaces another, it's easy forget the principles of the company that made it successful in the first place. My advice for engineers is this—to continue being awesome and providing value to the people who use our services and products, each one of us needs to take responsibility for cherishing the culture we have now and handing it down to future generations. Ensuring that your entire company is always aligned behind a single common goal with a consistent culture is very important and will help you continue kicking butt.