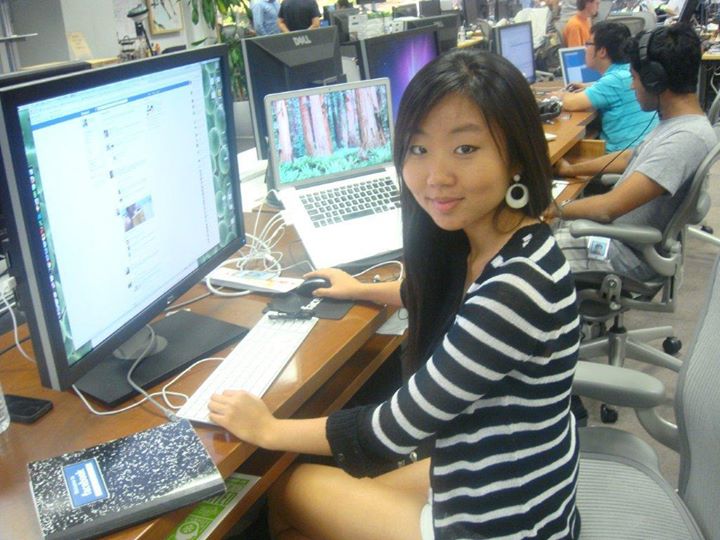 Ever since I took a class about social networks and their impact on economics and computer science at Cornell, online viral marketing has been my passion. So, I looked for a summer internship that would put me at the forefront of this new trend. Facebook is rebuilding the web around people, and because of this advertising is also making a shift to be focused more around people and friends. The Ads engineering team at Facebook was the perfect place for me to land my first internship so I could help connect people with the products and things they love in a new and social way.
Early on in my internship, I was able to hear one of the many guest speakers Facebook regularly invites from outside the company. The speaker was Maria Klawe, president of Harvey Mudd College, who talked about ways to achieve success in our careers.
I was particularly interested in hearing Klawe speak because as Harvey Mudd's first female president, she has been an outspoken advocate for increasing the role of women in science and engineering. She has revolutionized computer science at Harvey Mudd, taking the department from 10% women to 42% women in recent years.
Her talk identified four keys to success:
Choose goals to make an impact.
Be excellent in your work so that you can lead by example.
Be willing to learn and change.
Know when to stop and let it go.
All of her points reassured me that I chose the right place to spend the summer. Facebook has emphasized the ability to choose a project that will make an impact from day one of my internship. In my work with ad units, I have had to dive in to take risks, learn many technical tools and languages, and move fast and nimbly because new code is pushed almost daily. This is my first experience with front-end engineering, so with guidance from my mentor, I taught myself PHP, JavaScript and CSS. Finding the right strategy to solve a problem involves a lot of experimentation, especially since I'm new to front-end engineering, so knowing when to stop a certain strategy and let it go has been paramount for creating better results and a better product.
But above all, Kwale's third point really resonated with me: be willing to learn and change. The Ads team is very special in that it requires a lot of cross-functional interaction between teams like design, engineering, product management, data analysis, sales, communications and user-experience. This has taught me to see the product from various perspectives. Sometimes, an unexpected reaction gleaned from users by way of user experience research comes to me as a revelation. I get excited at such moments, discovering a fresh perspective of the same Facebook product I work on and use. This has led me to change how I think about many products I see online.
Working with such a dynamic team has made my internship successful so far. My mentor, Jessica Gronski, and co-worker, Cliff Chang, helped me set awesome goals when I joined. And, from that point forward, my mentor and everyone else at Facebook has gone out of their way to advise me so that I can really grow and change.
Klawe was right about her key points to the success, and Facebook has been a great place to realize these steps as I work eagerly toward making the world more connected.