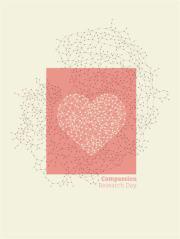 At Facebook, we understand the importance of research around how people perceive, relate, and engage with each other. In that spirit, we are hosting researchers and practitioners who work to improve scientific understanding of the driving forces and benefits of compassion. To get ready for Compassion Research Day, we asked the speakers to share useful and insightful resources with us:
Emiliana Simon Thomas, Associate Director of Stanford's Stanford's Center for Compassion and Altruism Research and Education suggests looking through the center's videos and resources.
Marc Brackett, Deputy Director of Yale University's Health, Emotion, & Behavior Laboratory recommends
reading about The RULER Approach, an evidence-based
social and emotional learning program dedicated to
enriching the lives of educators, students, and families.
Dacher Keltner, Director of Berkeley's Social Interaction Laboratory recommends checking out the Greater Good Science Center.
Rodolfo Mendoza-Denton, Director of Berkley's Relationship and Social Cognition Lab suggests reading his blog, "Are We Born Racist".
Kathryn Lee and Mark Basnage, educators at the Prospect Sierra School suggests watching videos from the TED GoldenGateED event which took place this past June.
Jeffrey Szilagyi and Dave Talamo suggest you check out the Stepping Stones Project.
If you're in the Bay Area, and would like to join us please respond to the invite here.
We hope that you will join us at Facebook HQ. If you can't make the event we'll put up streaming video of the event afterwards.