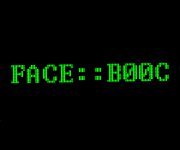 We're announcing today our participation in World IPv6 Day, along with Google, Yahoo!, Akamai, Limelight Networks, and the Internet Society. June 8, 2011, will be the first global-scale "test flight" of IPv6, the next generation protocol for the Internet. And best of all, it's open to everyone who's interested in testing their IPv6 service.
This is a big step forward for the Internet because the current protocol, IPv4 (also known as IP), will run out of addresses this year. Since every endpoint on the Internet — whether it's a computer, mobile phone, or TV — relies on a unique IP address to communicate, we need more addresses so they can all stay connected.
As a next generation protocol, IPv6 provides a vast number of addresses by today's standards — 4 billion times the number that are available under IPv4. Telecom carriers, ISPs, OS makers, hardware manufacturers, Web companies, and governments around the world are depending on IPv6 to continue growth of the Internet. World IPv6 Day — a 24 hour period during which Internet companies will test IPv6 — is an important step that enables the technology to move forward in a globally coordinated setting.
Testing IPv6 is important because recent studies indicate about 0.05% of Internet users (1 in 2,000) can't reliably connect to websites that enable both IPv4 and IPv6 addresses (known as "dual-stacked" websites). This has resulted in a classic chicken-and-egg puzzle right now: websites don't want to enable IPv6 because a small number of their users may have trouble connecting. At the same time, doing nothing means that ever more users will have trouble connecting to these dual-stacked websites, and ISPs will turn to less effective technical alternatives like Large Scale NAT (see below).
To break this conundrum, we need to take a small, concerted step for just 24 hours, where Web companies, ISPs, hardware/software makers, and users work together and synchronize plans, communication, and support.
Why IPv6 Is Important to Facebook
The switch to IPv6 is especially important for us at Facebook as we pursue our mission of helping the world connect and share online. Since last summer, we've offered Facebook over IPv6 at www.v6.facebook.com (addressed 2620:0:1cfe:face:b00c::3 in true hexadecimal IPv6 hacker fashion; note that the v6 link works only from IPv6 endpoints). World IPv6 Day will allow us to test our infrastructure and code more widely with low risk to our service and users.
The day also promotes awareness among hardware and software suppliers, and should encourage everyone to create robust IPv6 products and fix buggy ones. Between now and June 8th, there's an opportunity for the entire industry to ensure hardware and software isn't just IPv6-capable, but that it can reliably connect people to dual-stacked websites.
This year's exhaustion of IPv4 addresses isn't exactly a sky-is-falling situation, because there are always economic and technical solutions when there's enough energy put behind a big problem. An economic solution is for organizations to buy IPv4 addresses from others willing to sell them. But this isn't a sustainable solution, and it's perhaps not completely fair when you consider how the Internet has historically been fully open and accessible. On the technical side, there are many protocols and devices in different stages of maturity. But some v4-to-v6 transitional protocols are so old they are nearly phased-out or obsolete.
LSN: A Technical Alternative
One newer solution being proposed is Large Scale NAT (Network Address Translation) or LSN, also called Carrier Grade NAT. NAT basically translates one address into another, typically a private address into a public address and vice-versa. Many users and sites do this today on a small scale. Your laptop may have the private address 192.168.1.10, which is translated by your home router into a public address provided by your ISP. The public address is unique and the address you depend on for global Internet connectivity. So what happens when your ISP runs out of addresses? Before address exhaustion, it would simply apply for and receive new addresses. But that is no longer the case.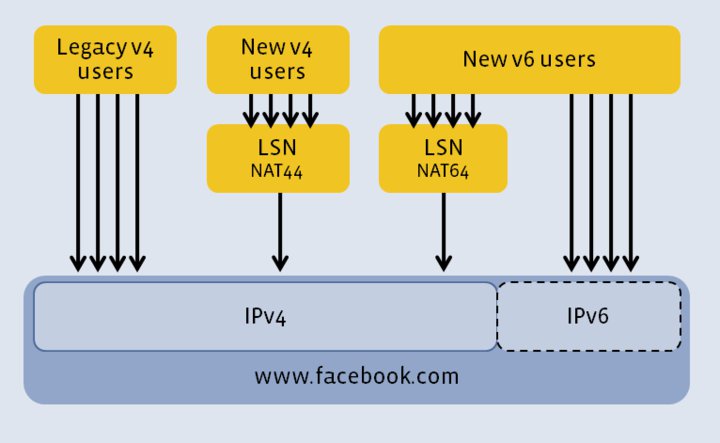 Enter LSN. The plan here is to give your endpoint, like your home router, a private address instead of a public one and then translate your traffic at a new, heavy-duty LSN device that lives elsewhere on the Internet. Thus, your laptop's private address will be translated to another private address at your home router, which will then be translated again into a public address at this new LSN device. Thousands of users share a single IP address thanks to the massive translator. What's unclear is whether this will give us the same performance, reliability, and security we have on the Internet today. And the people deploying LSN are not exactly thrilled about having to use it — it's more out of necessity because most websites aren't yet dual-stacked to handle an end-to-end IPv6 connection.
IPv6 vs. LSN
Many people have spent years working IPv6, which is a longer-term and more reliable solution than LSN. Adopting IPv6 means that people with IPv6 addresses can talk to IPv6-enabled, dual-stack sites without translators. The following chart describes some other aspects of LSN compared to end-to-end IPv6 connectivity.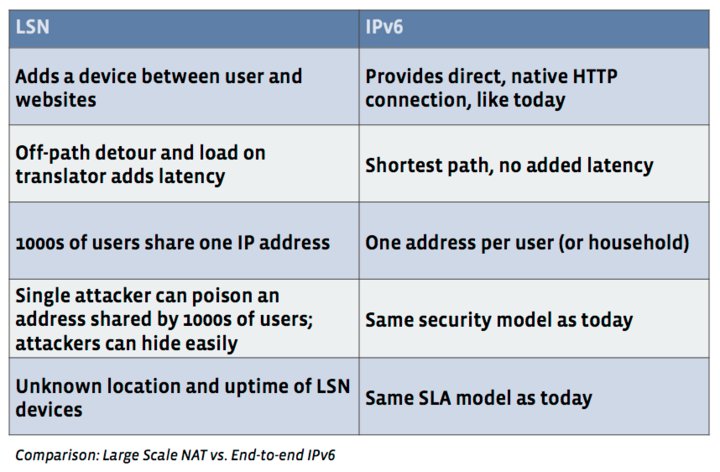 We hope you'll follow along in the coming months and then join us for World IPv6 Day on June 8, 2011, when the Internet takes a big step forward!
Acknowledgements
Many people contributed to our IPv6 efforts and this event, notably Will Lawton, Paul Saab, John Allen, and Jonny Thaw at Facebook, Lorenzo Colitti at Google, and Tore Anderson at Redpill Linpro.